Top 9 Classic Board Games – The Most Timeless Classic Board Games
Classic Board Games
This post is a nostalgic trip down memory lane to revisit some of the classic board games of your childhood. These timeless classics have entertained millions and in a time filled with so much noise and distraction, its time to revisit some classic board games.
Top 9 Classic Board Games – The Most Timeless Classic Board Games
"Once upon a time, King Kandy, the Imperial Head Bonbon and Grand Jujube of Candy Land disappeared."
…there are several good reasons why "Candy Land" is the first board game children learn to play:
First, the game does not require children know how to read. They do not even need to know their numbers as they do in "Chutes and Ladders." Movement is based on a child being able to recognize colors and symbols. What could be easier than that?
Clue is one of those transcendent games that's maintained it's viability for over 50 years. Why? It still feels fresh and is flat-out fun to play.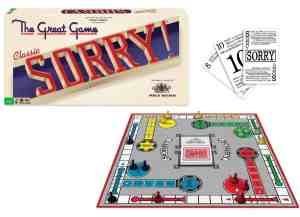 This version of "SORRY!" is created by Winning Moves Games, with the permission of Parker Bros., and licensed by Hasbro, way back in 1939.
Relive the Monopoly experiences you remember best from the game's classic years. This is the exact same classic board game you remember.
Climb up and slide down in the exciting game of ups and downs, Chutes and Ladders. This classic board game is always fun and the perfect game for young children.
The Classic board game of Trouble as you remember it. The board game is made of hard plastic and the dome is high so the dice really changes with each click, just like the 80s version.
This is the classic board game for kids who don't like board games. Take charge as you hunt down, launch and destroy your opponent's ships while successfully hiding and protecting your own.
Celebrate the 50th Anniversary of "The Game Of Life" with the classic board game edition. Yes, this is the original version of Life that you are looking for.
This is the same classic board game version of the original game. Enough said.